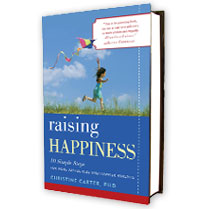 Dr. Christine Carter, author of "Raising Happiness: 10 Simple Steps for More Joyful Kids and Happier Parents" writes:
Emotion Coaching is the key to raising happy, resilient, and well-adjusted kids.
At Go Girls! Camp, we believe that emotion coaching is the key to helping our girls take charge of their own emotional literacy and become the emotional superheroes that will help improve their own lives and lead our communities in a compassion revolution.
Emotion Coaching is simple but it's not easy.  It requires that we adults trust our girls to take charge of their own emotions and solve their own problems.  We must coach our girls to come to their own rescue.  This short presentation takes you through the 3 simple steps of emotion coaching and includes a coaching video to help you make this transition into becoming her emotion coach.
[slideshare id=27422749&style=border: 1px solid #CCC; border-width: 1px 1px 0; margin-bottom: 5px;&sc=no]
This post is #15 of 25 Tips to Teach Your Daughter to Respect Herself, Command Respect, and Respect Others.  Wanna make sure you get all 25 Tips for Bullying Awareness Month?  CLICK HERE and we'll send 'em right to your email!
For more incredible Go Girls! resources for helping your girl stay safe, happy, and healthy in her relationships, check out Kidpower and get your copy of Starring Celia.